Have you been urged to place your elderly parent in hospice care despite the fact that he or she is not terminally ill? Hospice care is intended for patients who are terminally ill and for whom there is no cure. So why are healthy older adults ending up in hospice? A recent article in the Washington Post revealed that this phenomenon might be a larger problem than we'd like to think. Indeed, over the 2000s, the newspaper reported that the "number of 'hospice survivors' in the United States has risen dramatically." What's going on? According to the article, "hospice companies earn more by recruiting patients who aren't actually dying," since "healthier patients are more profitable because they require fewer visits and stay enrolled longer."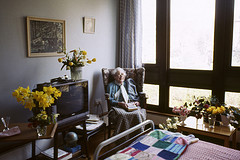 If you have been pressured to move a parent into hospice care, your elderly loved one might not receive the kind of treatment she or he needs. For-profit companies shouldn't be allowed to take advantage of older adults. Indeed, we might think of these actions as another form of elder abuse. It's important to speak to an experienced elder law attorney about your options.
Hospice Discharge Statistics
According to the Washington Post, more patients than ever are being discharged from hospice care centers—something that was never intended to happen based on the primary tenets of hospice care. In fact, the number of patients who have been discharged over the past decade has risen substantially. Between 2002 and 2012, "the proportion of patients who were discharged alive from hospice care rose about 50 percent," based on an analysis conducted by the newspaper.
For example, at AseraCare, one of the largest hospice chains in America, "about 78 percent of patients who enrolled at the Mobile, Alabama branch left the hospice's care alive," while "as many as 59 percent of patients left the AseraCare branch in nearby Foley, Alabama alive."
That investigation relied on records from more than one million hospice patients in California over the past decade. According to the article, California is a good source for information about hospice care and discharge rates. The state keeps detailed records that are readily available to the public, but since the state is so large, it also "offers a portrait of the industry."
Over the past decade as discharge rates rose, so did the average length of a patient's stay in hospice care. As a result, hospice centers earned significantly more profits. In fact, based on records from California, "profit per patient quintupled, to $1,975." And much of those funds came from Medicare. Is the government paying money it doesn't need to provide to for-profit hospice care companies?
The For-Profit Hospice Industry and Patient Harms
As hospice has become a multi-billion for-profit industry, hospice "recruiting" has become a money-making tool, and it's putting a heavy burden on Medicare. According to the Washington Post, about $15 billion of hospice industry revenue came directly from Medicare in 2012. That's a huge percentage of the industry's profit. And that percentage only seems to be rising, according to research undertaken by MedPAC, the government Medicare watchdog group.
There are more serious problems than the drain on Medicare, as well. Former hospice workers have alleged that hospice patients don't receive the care they need when they're not terminally ill. The Justice Department "joined several of these lawsuits," according to the article. In short, hospice companies make more money when they have patients, regardless of whether those patients are terminally ill. Yet, many of those patients suffer in the long run—they don't receive proper care for non-terminal illnesses since they're assumed to be dying.
If you have been pressured to place your elderly loved one in hospice care, you should speak to an experienced nursing home abuse lawyer today. At the Walton Law Firm, we want to put an end to the overuse and misuse of hospice care. Contact us today to discuss your case.
Photo Credit: squishband via Compfight cc
See Related Blog Posts:
Assisted Living Facilities Fail to Pay Fines
Elderly Financial Abuse and Privacy Laws Revisited