California received its first batch of Covid-19 vaccinations and began vaccinating people according to recommendations from the California Department of Health. First, the vaccine is being given to health care workers and residents of skilled nursing facilities, assisted living facilities and similar facilities for older and medically vulnerable patients.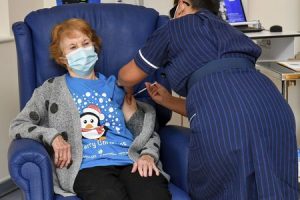 Currently, there are more than 400,000 people living in skilled nursing facilities (nursing homes, rehabilitation centers, convalescent hospitals) in California. Questions arise over how to obtain consent for the vaccines for the elderly who suffer from dementia or Alzheimer's or in some other way lack the capacity to give consent. Obtaining written consent from the patient him or herself would be the best, but that is not going to be possible for many residents of nursing home and assisted living facilities.
People are worried about the safety of vaccines, and some discount the severity of the virus itself. The federal government has not provided clear direction on how to best encourage people to consent to taking the vaccine. It is easy to imagine that within families there might be disagreement over whether a loved one should be vaccinated in the first place. These disagreements will need to be worked out because there is an urgent need to vaccinate the elderly who are disproportionately affected by Covid 19 and require hospitalization at higher rates than the rest of the population when they do get infected.