Self-neglect often can be a sign of San Diego elder abuse or neglect. Self-neglect typically occurs when adults cannot or do not take care of themselves properly, according to a recent article in the San Diego Union-Tribune, but it also may indicate a caretaker's negligence. Generally unsanitary conditions of residents or of a California nursing home or assisted living facility should not be tolerated. Under California law, all nursing home residents are entitled to a safe, clean, and comfortable home-like environment, and friends and family members of elderly residents should make sure facilities are keeping up their hygienic standards.
Sometimes it can be difficult to believe that an elderly loved one is not taking care of himself or herself. Signs of self-neglect may include not eating or drinking, failing to buy food, missing doses of medication or taking too much, not going to the doctor, and refusing or forgetting to bath or dress. Self-neglect can put vulnerable seniors at risk of serious injury or illness, including hospitalization. According to the San Diego Union-Tribune, research shows that the risk of self-neglect increases when an older individual has cognitive impairments or mental health problems, chronic health problems, uses alcohol, lives alone, or has fewer perceived or actual financial or social resources.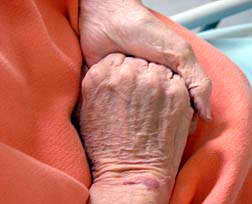 Our San Diego elder abuse attorneys know some of these examples also can be signs of depression, which can occur when an elder is being neglected or abused by a caretaker. It is crucial for family members to be on the lookout for these signs and to visit nursing facilities prior to admitting seniors, as well as to make regular visits once a loved one is residing at a facility. Remember, you have the right to ask staff members questions about a facility's policies or cleanliness and to voice any concerns.
If you are concerned that a loved one is engaging in self-neglect, California's Adult Protective Services has a call center that offers help locating resources for older adults and takes reports of self-neglect and elder abuse. The call center can be contacted at (800) 510-2020. It also may be helpful to arrange for other resources to assist your loved ones if necessary such as Meals on Wheels or in-home caretaking services.
The California Department of Health Services has generated a nursing home resident's Bill of Rights that lays out the various rights seniors enjoy when living at a residential facility. It can be viewed here. All nursing home residents have the right to be free from abuse, including physical, verbal, sexual, and psychological abuse. Although self-neglect may be a sign that your loved one is struggling to take care of himself or herself, it could also be a sign of serious neglect. Our Orange County nursing home abuse lawyers have spoken with many families concerned about the care their elderly loved ones are receiving. We understand how important it is for California families to educate themselves about nursing home abuse and neglect. Please know that our professionals are also here to help in any way we can.
See Our Related Blog Posts:
Family of Deceased Man Files "Quality of Care" Suit Against Retirement Facility