The California Department of Public Health has levied its harshest fine against a nursing home after a resident fell from a mechanical lift. According to reports, the lift was being to transfer a 60-year-old patient from her wheelchair and into her bed. As nursing assistants were transferring the woman, the sling holding the woman broke, causing the woman to fall hard to the ground. She struck her head on a nearby door, causing a severe brain injury, and ultimately causing her death four days later.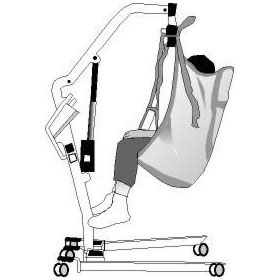 An investigation by the Department of Public Health revealed that the nursing home, the Eskaton Care Center, failed to properly maintain the lift. The lift, which law required be checked monthly, had not been checked for five years. The DPH report stated that the sling appeared worn and had "what appeared to be bleached out blood stains at the center."
The nursing home can appeal the fine (and the AA citation it received), but it's not clear if it will. "We're mortified," Trevor Hammond, the nursing home's chief operating officer, told the Modesto Bee. "We had a tragedy when a piece of equipment failed. It was a catastrophe."
The original complaint with DPH was filed in January, 2009 by Carole Herman, president of Foundation Aiding the Elderly, a nursing home rights group in Sacramento. While she was no doubt happy that the citation and fine were issued, she lamented the length of time it took DPH to complete its investigation. She told the Bee, "It's taken this long for the state to get something done. It's terrible." Amen, Carole, Amen.
Source: ModBee.com
The nursing home abuse and neglect lawyers at Walton Law Firm provide free consultations to individuals and families who believe a loved one has been abused or neglected in the nursing home, assisted living, or home health care setting. Call (866) 607-1325 for a free and confidential case evaluation.