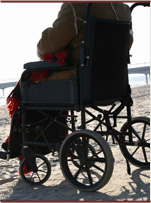 The San Diego nursing home abuse lawyers at the Walton Firm know that falls due to a lack of adequate supervision can be a life-threatening problem for California seniors. Serious falls in custodial settings can result in death or drastically alter the quality of a loved one's life.
A Newport Beach nursing home was recently fined in connection with the death of a senior after the resident was left unsupervised and suffered a serious fall. According to the Daily Pilot, the state investigated the woman's death and found that the facility failed to properly supervise the ailing resident. The woman suffered from dementia and osteoporosis. She was also recovering from hip replacement surgery.
The woman was left unattended after she asked for privacy while using the restroom. While alone, she fell and was later discovered by an employee. She was face down, had no pulse, and was not breathing. Although the elderly woman was revived by medics, she was left with a fractured spine and remained brain dead. Her family later decided to remove her from life support.
The California Department of Public Health fined the nursing home $100,000 following the state's investigation. Inquiry indicated that staff at the facility noted the woman needed constant supervision. The woman's medical condition likely put her at a high fall risk. The investigation revealed that when the woman asked for privacy, nurses would typically crack the bathroom door in case she had any trouble.
On the day of the woman's death, however, the nurse in charge of the patient was approximately three minutes away from a lunch break. Instead of monitoring the woman, the nurse allegedly left the woman unattended and went in search of someone to replace her. While the nurse was absent, the woman fell, apparently resulting in her death. State investigators concluded that the nurse should have waited until the woman was finished and safely back in bed before leaving to find a replacement nurse.
Negligent nursing practices such as a lack of appropriate supervision can have serious, negative outcomes for nursing home residents. They can shorten a life or significantly impair a loved one's quality of life. Those who commit nursing home negligence must be held accountable for their actions. Even when a loved one's physical wounds heal, it is important to ensure that all California seniors are treated with the respect they deserve. Our North County nursing home neglect lawyers know that for each family that comes forward to share their story of neglect, other potential victims are spared harm by the changes in protocol that often result.
In this case, the fine levied by the California Department of Public Health—$100,000—is the heaviest possible fine that the agency can issue. The Newport Beach nursing home is contesting the fine.
Our North County nursing home attorney has successfully sued nursing homes and other care facilities in civil courts for injuries caused by falls in the custodial care setting. Our lawyers know how to successfully navigate all stages of a California nursing home abuse lawsuit, including pre-trial discovery, trial, and/or settlement negotiations.
If you are concerned that a loved one is suffering elder abuse or neglect, please call our San Diego nursing home abuse attorneys for a free and private consultation today. Our legal professionals can be reached toll free at (866) 607-1325 or locally at (760) 607-1325.
See Our Related Blog Posts:
Los Angeles County Nursing Home Fined For Feeding Tube Death