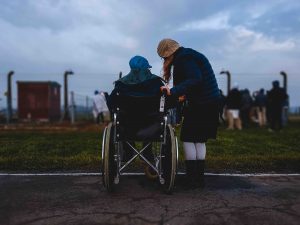 If you are in the process of looking for a nursing home or assisted-living facility in Los Angeles County for a loved one, it can be difficult to know how to choose the best facility and how to assess the risks of nursing home abuse at a particular place. Given that nursing home abuse and neglect can happen in some of the most seemingly luxurious and upscale facilities, it is important to keep in mind that the cost of care alone is not necessarily a predictor of senior safety in the facility. However, according to a recent article from Reveal News, a study conducted by The Center for Investigative Reporting suggests that one clear indicator of safety issues in a nursing home or assisted living facility may be the way the facility treats its workers.
In short, "operators of senior . . . homes that violate labor laws and steal workers' wages . . . often also endanger or neglect their residents, sometimes with dire consequences." We want to say more about the study and to discuss ways of identifying potential safety concerns in nursing homes.
U.S. Department of Labor Cases and Nursing Home Abuse Reports in California
The recent study found that nursing homes and assisted living facilities that had been reported for labor violations to the U.S. Department of Labor (DOL) for wage and labor violations also tended to have issues with nursing home abuse and elder neglect.
According to the article, California has more senior care homes than any other state in the nation, and "federal data shows that operators broke minimum wage, overtime, or record-keeping laws in more than 500 cases over the last decade." In about 20% of those cases, the nursing home or assisted living facility also had been "cited for health and safety violations that endangered residents." Some of the caregivers in these facilities have been paid only $2 per hour for hourly work, and have worked with no sick days or vacation days. Many of those workers have faced retaliation—being terminated from their jobs—for reporting wage violations or workplace harassment.
In response to the study, the California Department of Social Services and the California Department of Industrial Relations are working together to address labor law violations in the state alongside elder safety violations. A spokesperson for California Gov. Gavin Newsom also indicated that the agencies are collaborating to find options for taking legal action against these facilities, including steps that might involve the revocation of a nursing home's state license.
Learning More About Indications of Safety Issues in California Nursing Homes
In addition to wage violations, a U.S. News & World Report article also cites the following as potential indicators of safety problems or elder abuse in a facility:
Physical or emotional changes in your elderly loved one;

Nursing home staff members who deflect or do not answer your questions;

Staff that seems frantic or inadequate in number;

Frequent turnover of staff members;

Unanswered phones or unanswered call lights; and/or

General bad feeling inside the facility.
Contact a Nursing Home Abuse Lawyer in Los Angeles County
If you have concerns about an elderly loved one's safety at a nursing home or assisted living facility, you should discuss your case with a Los Angeles County nursing home abuse attorney at our firm. Contact the Walton Law Firm today for more information about the services we provide to seniors and their families.
See Related Blog Posts:
Nursing Home Abuse Fatality Highlights Need for Better CMS Oversight