"Elvis impersonator Donald Trapani is about to leave the building. But not just yet." So begins an article in yesterday Arizona Republic paper about hospice patient Donald Trapani, who spends his days entertaining his fellow hospice patients with his impersonation of Elvis Presley. What a nice story.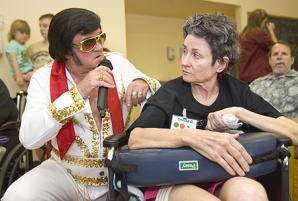 READ THE ENTIRE ARTICLE BY CLICKING HERE.
The nursing home abuse and neglect lawyers at the Walton Law Firm represent seniors and disabled and dependent adults who have been abused or neglected in the skilled nursing facility, residential care facility for the elderly, and assisted living setting. Call (866) 607-1325 for a free and confidential consultation.