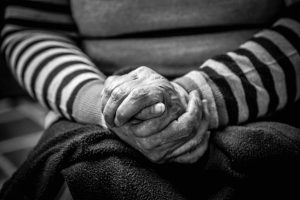 If you are seeking out a nursing home for an elderly loved one in Orange County, it can be difficult to identify a facility that has a strong history of complying with safety regulations and providing quality care for patients. While you might think that a more expensive nursing home is less likely to engage in hiring practices that could lead to injuries caused by nursing home abuse or neglect, the price of a nursing home is not necessarily indicative of its quality. Even expensive nursing homes can have safety citations and histories of nursing home abuse injuries. According to a recent article in McKnight's Long-Term Care News, the Centers for Medicare and Medicaid Services (CMS) has plans to update its "Nursing Home Compare" information to include an "abuse icon" that will alert potential patients and their families to dangerous histories of abuse and neglect. 
CMS Data Update Will Add an Abuse Icon
Currently, potential nursing home residents and their families can access information about nursing homes from the CMS "Nursing Home Compare" website. The website allows consumers to compare multiple nursing homes, assessing CMS ratings for those facilities and other important information that can illuminate whether the nursing home is a good fit. Yet that data can be difficult to navigate, especially for individuals and families who do not have experience analyzing detailed information about nursing homes. In order to make it easier to assess these facilities and to learn whether the facility has a recent history of abuse, CMS will be adding an "abuse alert icon."
In addition to adding an abuse icon—which will provide individuals and families with a clear indication of which facilities have a recent history of abuse—the CMS updates will also include changes to "the consumer-facing site and the Five Star Quality Rating System." These updates will be completed by January 29, 2020.
Need for Clearer Information About Nursing Homes With Histories of Abuse
While there are not a particularly high number of nursing homes that will include an abuse icon when the updates are completed, the number is significant enough. According to an article in Becker's Hospital Review, approximately 5% of the nursing homes on the CMS Nursing Home Compare website will have those abuse icons. To put that number another way, there are over 15,200 nursing homes that are currently listed in Nursing Home Compare, and 760 of those facilities will now have an abuse icon. If a nursing home receives an abuse icon, consumers can also access documents through Nursing Home Compare such as inspection reports.
Why did CMS make these changes? According to the Becker's Hospital Review article, nursing home abuse allegations are on the rise. To be sure, "the rate of nursing home complaints has increased from 32.7 complaints per 1,000 residents in 2011 to 52.3 per 1,000 in 2018." In 2018, there were a total of 71,602 nursing home abuse complaints filed, and about 50% of those complaints "were considered high-priority because they caused or could have caused harm to residents."
Contact an Orange County Nursing Home Abuse Attorney
If you need assistance filing an elder abuse claim, an experienced Orange County nursing home abuse attorney can help. Contact the Walton Law Firm to learn more about our services.
See Related Blog Posts:
Learning More About Elder Abuse Laws in Valley Center
How Los Angeles County Nursing Facilities Treat Workers May Reflect Abuse Risks