A news report in The Star-Ledger again highlights the danger of abuse against elders suffering from Alzheimer's disease or dementia. Two residents at an assisted living home in New Jersey filed a lawsuit last week based on injuries they sustained in 2010 due to suspected abuse. Though only two residents filed suit, a total of four residents were taken to local hospitals around the same time period because of alleged abuse. The two victims were Henry Glowacki, 92, and Robert Prochazka, 89. Both men alleged facility staff repeatedly and extensively beat them, and photos of the men depict old and fresh bruises across the men's torsos, arms, and stomachs.
After the local prosecutor's office conducted a criminal investigation (no criminal charges have been filed), the families of the victims contacted an elder abuse attorney and filed a civil suit. In December 2010, just a few days before Christmas, local police were called to the assisted living facility after the director of operations told authorities four residents appeared to have been badly abused. According to police, the two men directly responsible for the victims' care were placed on administrative leave.
A care manager first discovered the bruising and alleged abuse five days prior to police involvement. While cleaning the older of the two men, Mr. Glowacki, the care manager noted that the elderly man refused to sit down because he was in too much pain due to injuries on his buttocks. Although the care manager documented the bruises, the assisted living facility failed to investigate the report. The state Department of Health and Senior Services later cited the home for this violation. The other victim, Mr. Prochazka, also suffered from extensive bruising and sustained fractures to his ribs and one of his fingers.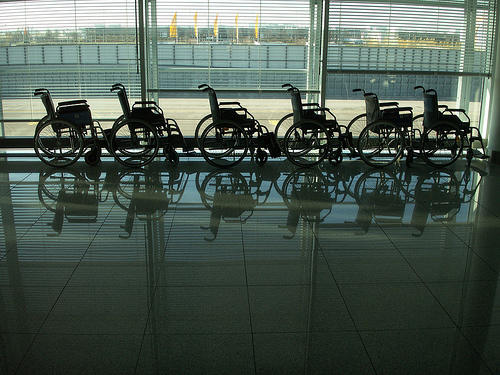 The two victims are still living at the facility where they suffered the abuse. According to the article, the families felt their fathers would be safer there because state officials are closely watching the home. At a new assisted living facility, they worried, abuse might occur again.
Unfortunately, at many facilities where abuse occurs, prior abuse has been reported. That is why our San Diego County nursing home abuse lawyers recommend thoroughly researching a home before admitting a loved one. More importantly, it is crucial to visit various facilities to compare them, meet the staff and administrators, and assess their safety and cleanliness.
For example, the company that runs the facility where Mr. Glowacki and Mr. Prochazka were abused has been accused of wrongdoing in the past. A facility in another state had its license revoked (later reinstated) when a hidden camera showed employees taunting and assaulting a woman suffering from dementia. The company has also been investigated for financial reporting fraud, but settled that suit in 2010.
Sadly, elder abuse occurs all too often. Our experienced San Diego and San Bernardino negligence lawyers have handled numerous cases against nursing homes and assisted living facilities involving elder abuse and neglect. If you are concerned about a loved one, please consult us for a free and confidential consultation today.
See Our Related Blog Posts:
Family of Deceased Man Files "Quality of Care" Suit Against Retirement Facility
Nurse Arrested for Stealing Elderly Patient's Medication

(Photo courtesy of Daquella manera)