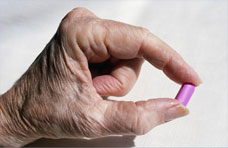 San Diego nursing home neglect is often difficult to identify, because it can take so many forms. In many cases the neglect causes already fragile residents to develop secondary complications and it is those complications which lead to severe injuries or the death of the resident. Many families are ultimately left unaware that their loved one would likely still be alive if they had received the level of care to which they were entitled. Helping residents identify and prove mistreatment is a key role played by a San Diego nursing home attorney.
There are often many signs and symptoms that if identified can be a good indicator of neglect. One of the more complex forms of California nursing home abuse that occurs with far too much frequency involves misuse of medication. As the Consumerist explained last week in an elder care story, many area nursing homes seek to control residents by essentially drugging them into submission. Appropriate care at these facilities necessitates that the individual needs of each resident be addressed. However instead of providing that care, many nursing homes instead chose to give these residents powerful antipsychotic drugs.
The problem is particularly prevalent for dementia and Alzheimer's patients. Often these seniors are given vast quantities of drugs intended to be used by those with bipolar disorder or schizophrenia. These drugs have the effect of turning many of these residents in virtual zombies. Tragically, family members often visit their loved one at a facility only to discover that their relative appears lifeless or lacking a vigor that they previous had. Most states require that all residents give informed consent before they are given these drugs. Not surprisingly, many facilities fail to get that consent before administering the medication.
Many of these antipsychotic drugs are given to patients who have not even received a diagnosis for a condition in which the medication was designed to treat. This represents an incredibly dangerous form of abuse. The United States Food and Drug Administration recently explained how the use of these antipsychotic drugs on older dementia patients for unapproved uses can nearly double their risk of death. With sobering statistics like that there is no reason why any facility should even consider using these drugs in this way and putting vulnerable resident lives on the line.
It is important for family members to understand the warning signs of these "chemical restraints" and to know that help is out there. The California Advocates for Nursing Home Reform have actually put together a helpful packet for those in this situation entitled "What You Should Know to Fight the Misuse of Psychoactive Drugs in California Nursing Homes."

Our San Diego nursing home lawyer at the Walton Law Firm is committed to helping victims of all forms of mistreatment, including those who were harmed by misuse of medication. There is no reason for tranquilizers of any form to be used to sedate residents. Caregivers at these facilities should ensure that the quality of life for the seniors in their care does not nosedive as soon as they enter these facilities.
See Our Related Blog Posts:
Elder Care Advocates Seek Changes to California Nursing Home Law
Gendale Nursing Home Criminally Indicted After Patient Death