Elderly victims of financial abuse, like those suffering from other forms of abuse, are usually reluctant to report their abusers. In the case of financial abuse, many California elders may not even be aware they are being victimized. Our North County elder abuse lawyer knows that financial abuse makes up a significant portion of all elder abuse cases reported each year. Despite increasing awareness of elder financial abuse, many instances of this conduct are still occurring as California's elderly population grows.
Two recent news articles again have shed light on the problem of California elder financial abuse. The Napa Valley Register reports that a Calistoga woman pled guilty to California elder abuse and tax evasion. The 51-year-old bookkeeper had been hired to manage an elderly woman's financial affairs relating to the operation of the victim's bed and breakfast in St. Helena. Instead, the bookkeeper embezzled more than $250,000 from the Yolo County woman over the course of 7 years, transferring the victim's assets to other accounts to pay her own bills. The crimes apparently were discovered after the 80-year-old victim became ill and her family realized her assets had been depleted.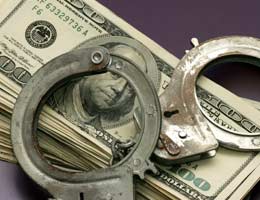 The Yolo County District Attorney's Office decided to prosecute the Calistoga woman after learning that she had used the victim's money to pay personal bills and purchase rental property in Santa Rosa and vacation property in Oregon. Although the woman will not be sentenced until March, she has already agreed to forfeit more than $300,000 in cash and property to pay restitution to the victim.
In another instance of California elder financial abuse, the San Jose Mercury News reports that a Clayton man allegedly attempted to defraud his elderly parents out of their $300,000 home. The man ultimately pled guilty, agreeing to a deal that will end his career as a licensed real estate agent. According to the article, the man forged his name on a check worth more than $28,000. Although the forgery charge was eventually dropped as part of the man's plea deal, he was caught because a new fraud notification program in Contra Costa County sent an automated letter to the victims when the man's signature appeared on a grant deed saying the taxpayer of the home had changed. Our San Diego nursing home abuse lawyer believes this story shows that successful measures can be taken to catch perpetrators of elder abuse and financial crimes.
In many instances of elder financial abuse, criminal charges are brought, but a civil lawsuit also may be filed. Under California law, any person age 65 years or older is considered an elder. A California elder abuse lawsuit can bring financial relief and a sense of justice to those wronged by perpetrators of elder abuse or neglect. The lawyers at the Walton Firm understand the long-term effects of elder abuse. Victims of financial abuse often feel they cannot trust anyone and suffer from psychological turmoil as a result. Sadly, we are only a few weeks into 2012 and there have already been several instances of California elder financial abuse. However, if you have been a victim of San Diego financial abuse, you are not alone. Help is just a phone call away.
See Our Related Blog Posts:
Elder Financial Abuse – Underreported And All Too Common
Home Repair Scammer Gets 35 Years for California Elder Abuse, Theft, and Burglary