California Watch is out with a disturbing report alleging that California nursing homes that received more than $880 million in additional taxpayer funds under a law designed to boost care, took the money did the opposite by cutting staff and wages. ["Nursing homes received millions while cutting staff, wages"] In its investigation, California Watch found 232 California nursing homes that either cut staffing, or paid lower wages to workers after receiving money from the state.
It appears that many of the nursing homes investigated used the state money to improve their financial health, not the health of its residents, and those that cut the most staff had, not surprisingly, more deficiencies issued by state inspectors than those facilities that did not cut staff.
"There was an implicit good faith agreement that things would get better … and that was broken," state Sen. Elaine Alquist, D-Santa Clara, told California Watch. "It was broken for the people of California and for a very vulnerable population – those that need the greatest care and those that can't advocate for themselves."
Orange County nursing home company Covenant Care gets special attention. The Covenant Care-owned nursing facilities cut caregivers even though the company received $15 million in additional funding. The average profit a Covenant Care facility was more than $900,000 in 1998, which was three times higher than the other 632 nursing homes evaluated by California Watch.
In addition, the state money has apparently had no impact on the rate at which complaints are made about nursing home care. The California Department of Public Health documented approximately 1,000 deficiencies issued against California nursing homes in 1998, which was a 65 percent increase over 2005, when the additional funding began.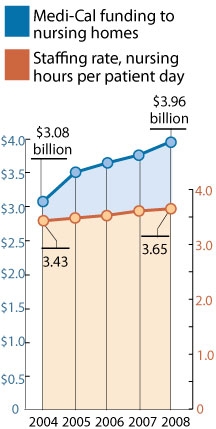 To read the entire California Watch article click here.
The attorneys at Walton Law Firm represent seniors and dependent adults throughout Southern California who have been injured or neglect in the nursing home and assisted living setting. Call (866) 607-1325 for a free and confidential consultation.