It took jurors only five hours to convict 21-year-old Cesar Ulloa of criminal elder abuse for his brutal treatment of residents at the Calabasas nursing home where he worked. According to prosecutors, Ulloa would laugh as he attacked his victims, many of whom were to demented to be able to call for help. He faces life in prison.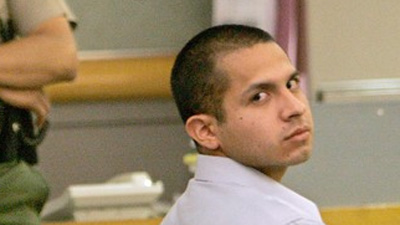 In one of the assaults, a fellow employee witnessed Ulloa jump on the chest of a non-verbal 78-year-old woman's chest, and throwing her on the bed as she struggled. To another elderly male resident, Ulloa jumped off a dresser and landed with both knees on the man's abdomen, seriously injuring the man. He apparently would laugh with delight while brutalizing the patients.
Suspicion over Ulloa actions was raised after the wife of a resident received an anonymous phone call the day after her husband's funeral. The call said that her husband had been abused, and that his death may have been related to the abuse, something the family suspected. The police were notified, and the victim's body exhumed for an autopsy that revealed more than 24 fractures. The man's death was determined to be caused by blunt force trauma.
According to the L.A. Times, when the widow testified at trial, jurors, and even the court reporter cried.
The case was especially shocking because the facility, Silverado Senior Living, was considered a high-end nursing home. But any nursing home neglect and abuse lawyer will tell you that the way the facility looks, or the price, is rarely an indicator of quality of care. In fact, prosecutors in the Ulloa cases argued that Silverado (like most facilities) are vulnerable to abuse because "caregivers there… generally take the floor with little more than a high school education and just a few days of training."
Source: Los Angeles Times
The nursing home abuse and neglect lawyers at the Walton Law Firm represent seniors and dependent adults throughout Southern California who have been abused or neglected in the skilled nursing facility, residential care facility for the elderly, and assisted living setting. Call (866) 607-1325 for a free and confidential consultation.