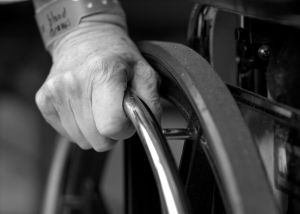 Disability Rights California, a non-profit that advocates for the rights of the disabled, recently released a report finding that the physical abuse of disabled adults in nursing homes are frequently not treated as crimes. The study analyzed 12 cases, including the following
• For months, a middle aged nursing home resident suffering from cerebral palsy with cognitive impairment was paraded naked and soaking wet in front of others after being forced by staff to take cold showers. Despite many witnesses, nothing was done.

• A disabled resident in his 40s was punched in the mouth by a staff member and then slapped, drawing blood. When he complained, it took days for the facility to report it to authorities. No charges were brought.

• An activity assistant in a nursing facility pushed two elderly residents in wheelchairs down the hall, causing them to slam into each other. When they stopped, they were left stranded.

• While assisting a disabled female resident with a bath, a male caregiver fondled her breasts. Despite complaining to the nursing home administrator, the facility assigned the aide to the same resident. The aid criticized the resident for telling on him.
Overall, Disability Rights California investigated the stories of nine men and seven women, age 41 to 97 years old, with physical, mental and cognitive disabilities, that were physically or sexually abused by nursing home staff. The physical abuse ranged from assault and battery, to sexual assaults, including allegations of rape.
"This is just the tip of the iceberg of hundreds of confirmed cases of nursing home resident abuse we see every year from Department of Public Health citation reports," stated Leslie Morrison, one of the authors of the report. Experts estimate that for every case of abuse that is reported, as many five go unreported.
Incredibly, state and law enforcement investigators concluded that the reported incidents (half were never even reported) were not criminal, and were handled as employee concerns. In most of the cases, the only punishment was deficiencies or a small citation from the California Department of Public Health.
To read the entire report, entitled "Victimized Twice: Abuse of Nursing Home Residents, No Criminal Accountability for Perpetrators," click here. [.pdf]
Source: DisabilityRightsCA.org
The nursing home abuse and neglect lawyers at the Walton Law Firm represent seniors and disabled and dependent adults who have been abused or neglected in the skilled nursing facility, residential care facility for the elderly, and assisted living setting. Call (866) 607-1325 for a free and confidential consultation.